Dewatering measures
When building in groundwater, various boundary conditions must be taken into account. It must be shown as early as the planning application stage that the building does not impede the flow of groundwater. For the construction, an excavation pit drainage must be planned. Various questions can be important: How great is the lowering of groundwater table in the surrounding area? Does the water extracted has to be re-infiltrated? Where should this be done so that no feedback occurs and no others are harmed? Will neighbouring drinking water catchments be affected? With a groundwater model, optimal solutions can be worked out and the necessary evidence provided.
Reference Projects
Lake Constance – Thur Valley Road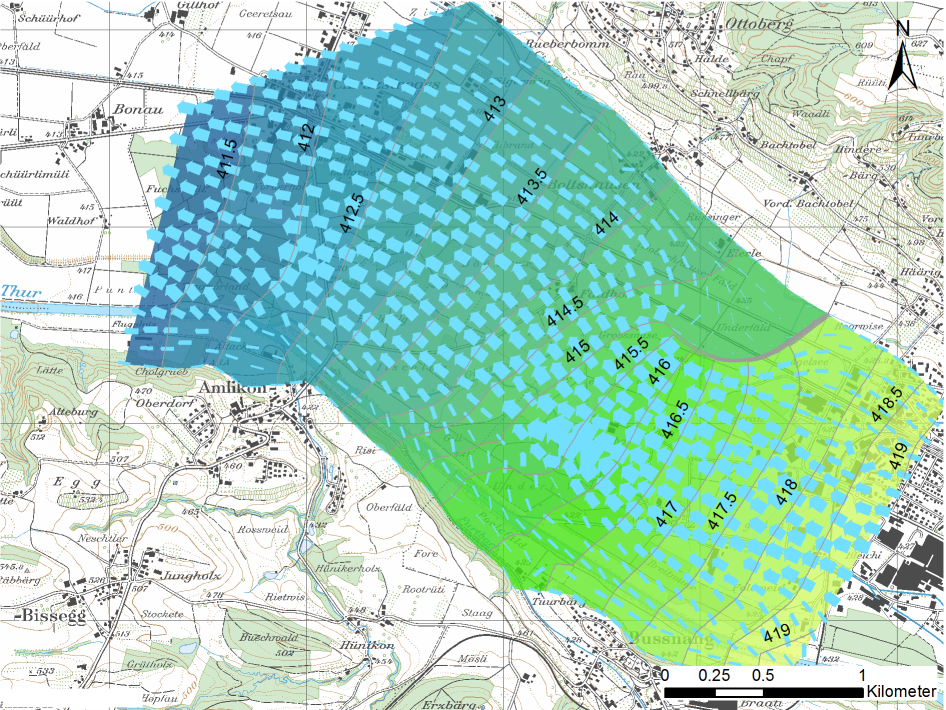 The civil engineering office of the Canton of Thurgau investigated various options for the Bodensee-Thurtal-Road. For one of the underground variants the Simultec AG investigated the effects on the groundwater with a groundwater model. The following effects were quantified:
Effects on the groundwater levels during construction
Effects on the catchment areas of neighbouring groundwater catchments
Effects on the groundwater flow directions in proximity of polluted sites
Groundwater heating due to the deep laying and the additional heat input via the asphalt pavement
Client: Civil Engineering Office, Canton Thurgau
Project period: 2018
Construction pit drainage Felben-Wellhausen
Due to the high permeability of the Thurtal gravel, a large amount of groundwater must be pumped to keep excavation pits in the Thurtal dry. Due to the increased occurrence of dry periods in summer, the Department of the Environment of the Canton of Thurgau requires that the extracted groundwater is to be reinfiltrated. With a groundwater model Simultec AG investigated the effects of two excavation pits in Felben-Welhausen. On the one hand it was examined whether a feedback from the return well to the drawing well takes place, on the other hand the effects on the groundwater level and the catchment area of the drinking water catchment Widen were examined.
Client: Ed. Vetter AG, Renespa AG
Project period: 2019