Hazardous Incident Risks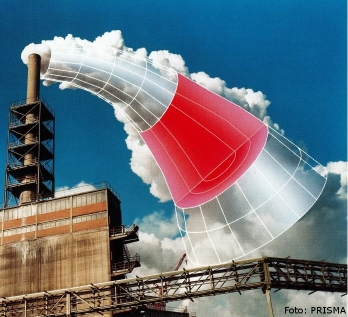 The transport of hazardous goods by rail and road, as well as cooling facilities, are associated with the risk of accidents. Simulations are the appropriate tool for assessing the risk of accidents. On the one hand, this involves quantifying the effects of a possible incident, and on the other hand, it involves structural optimisation. In a cooling facility, optimisation can include the choice of a suitable coolant, ventilation and outlets. In the case of buildings in the vicinity of hazardous goods transport, the aim is to minimise the hazard by structural measures.
Reference Projects
Ammonia incident in a cooling plant
Three refrigerators are to be installed in a central cooling plant. The client is interested in the effects of an ammonia release via the emergency ventilation system in case of an incident in the cooling plant. The Simultec AG determined the potential hazard for the public space by means of dispersion calculations.
AquaBasilea
The AquaBasilea wellness centre is located on a former industrial site in the entrance to Pratteln railway station. Since there are dangerous goods transports on the adjacent tracks, Simultec AG carried out a risk analysis. By means of dispersion calculations the effects of different incidents were examined. The greatest danger for the visitors of the wellness centre is caused by the explosion of an SBB wagon loaded with 42 tons of propane gas. Although the probability of such an event occurring directly in front of the wellness centre is extremely low, structural measures should nevertheless be taken to protect visitors.
In collaboration with the engineering company and the safety inspectorate of the Canton of Basel-Landschaft, a constructive solution was developed in which, in the event of an explosion, a collapse of the ceiling construction is possible without endangering the visitors.
Prairie Island Nuclear Generating Plant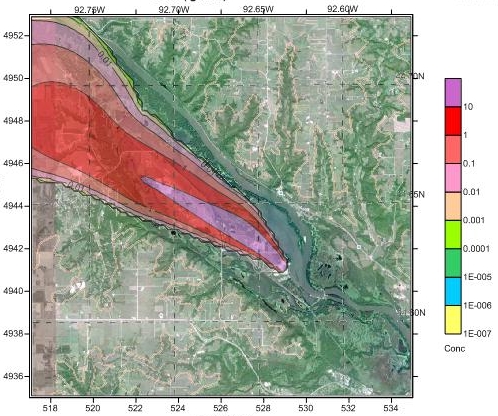 The Prairie Island Indian Community operates a casino on their reservation near the Prarie Island nuclear power plant. Within the scope of the extension of the concession of the nuclear power plant Simultec AG investigated different szenarios which could affect the health of the inhabitants of the reservation and casino visitors. Among other things, a dispersion of radioactive substances in case of an accident in the nuclear power plant was investigated. For this purpose calculations were carried out with the Calmet/Calpuff model.
Client: Prairie Islands Indian Community